If you are looking for beautiful and colorful Christmas and New Year email templates, you came to the right place!
This year we have created a large collection of 104 FREE Christmas and New Year Email Templates that you can easily download, customize with your personal greeting message and send them with SendBlaster. You will also find 6 responsive email templates that look beautiful on any device.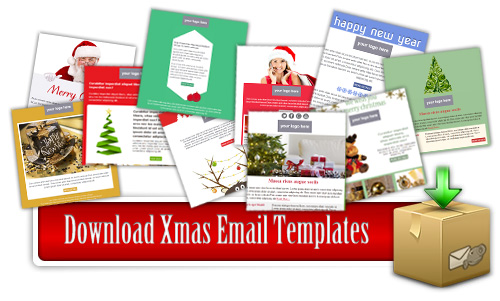 How to get started with Free Christmas and New Year Email Templates
Simply follow the instructions provided below:
Download this zip file [5.9MB]
Unpack the package
Install SendBlaster using the launcher attached or download it – skip this step if you have already installed SendBlaster on your pc.
Run the installer (xmastemplates2013.exe) – compatible with SendBlaster 3.x and 2.x versions – and follow instructions
Launch SendBlaster
Go to Compose a message panel
Click on Choose template and select your favorite Christmas/New Year email template  (all Christmas templates are grouped in the "Christmas" category on SendBlaster 3)
Customize your template with your fonts/logos/colors
Finally, send it to your list
Please note that this package contains a number of templates we already provided in the past. If you have already downloaded them, there will be no issues. We did not rename them, so you will not find any duplicates in your copy of SendBlaster.
Download SendBlaster FREE FREE Email Marketing eBook