Looking for some colorful and lovely Mother's Day Email Templates?

We have designed a new set of 5 Mother's Day Email Templates that you can download for free, customize and send out with SendBlaster.
We all know that Mother's Day is the perfect day to show appreciation and gratitude. Actually, it's also the second largest shopping day of the year, and a prime holiday for email marketing too.
Don't miss it!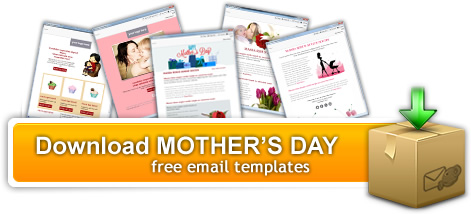 How to get started with Mother's Day HTML Email Templates
Simply follow the instructions provided below:
Download this zip file (5.9MB)
Unpack the package
Extract and copy .eml files in C:/Documents/SendBlaster2/Template (in C:/Programs/Sendblaster/Template for SendBlaster 1.x versions)
Open SendBlaster (or download a free copy)
Select "Compose message"
Click on "Choose template"
Choose your favorite Mothers' Day email template
Customize your template with your logo/fonts
Add your customized message
Done! Now you are ready to send your custom Mother's Day email.