It's that time of the year again. Halloween is just around the corner and like every year, we created a set of spooky halloween email templates that you can use for your newsletter or to send your Halloween greetings.
Want to celebrate the funniest and scariest holiday of the year with your subscribers and customers?
In our Halloween templates you can find backgrounds and images of pumpinks, bats, witches, haunted houses: the perfect way to get your readers into the Halloween spirit! All our Halloween templates ara fully compatible with all most popular email clients; six of them are also responsible, it means that their layout will adapt to any devices, from mobile phones to tablets and larger displays.
Download our Free Halloween-themed templates, add your logo, customize them with your favourite colors or fonts and send them to your email list with SendBlaster!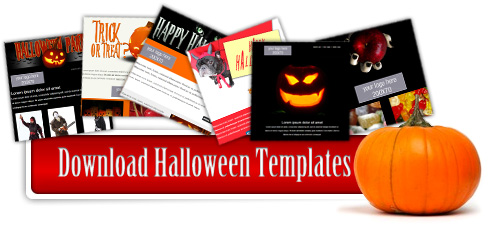 How to install Halloween email templates:
1 – Extract and copy .eml files in C:/Documents/SendBlaster3/Template
(in C:/Documents/SendBlaster2/Template for 2.x versions or C:/Programs/Sendblaster/Template for SendBlaster 1.x versions)
2 – Open SendBlaster (or download it)
3 – Select Compose message
4 – Click on Choose template
5 – Choose your favorite Halloween template
6 – Send your Halloween email
For SendBlaster 3 users: All these Halloween templates will be automatically added to the new Halloween category.
DOWNLOAD FOR FREE100% free newsletter software BUY PRO VERSIONLife license, one-time payment package