Today we'd like to share with you some free scripts that can turn out to be useful for your website/blog.
Let's take a closer look at these scripts (created by our development team).
1. WordPress double optin widget bulk email plugin for newsletter subscription
This simple WordPress mailing list management widget (plugin) sends emails with "Subscribe" and "Unsubscribe" subject for newsletter opt-in and double opt-in email list management.
The email list widget works with common bulk emailers and with SendBlaster's newsletter software subscription management with custom field integration, for email merge purposes.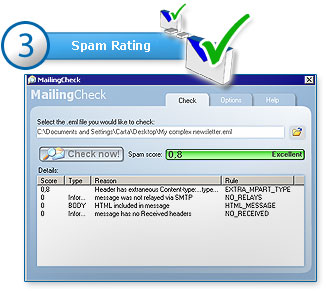 The Mailing Spam Check software rates your emails and analyzes the email content spam score: in other words you know in few seconds what is wrong in your email!  MailingCheck program executable incorporates all the common server side SpamAssassin anti spam test rules that you need to respect in order to go straight to your customer's inbox.
3. Permission based email list using PHP Captcha Form Script


This form mail sends an email with data gathered from all the fields to your mailing list management email address (which is the default functionality for a form mail). Fully compatible with SendBlaster.
4. Single Opt-in PHP form mail
Complete and free form php opt-in mail scripts with basic css design.
5. Double Opt-in free PHP form mail
Easy-to-use double opt-in and free form php mail scripts with basic css design.  We developed different css web form mail looks to match with your website feeling.
Installation in 5 easy steps instructions.
6. Complete fields form mail scripts
We released some single and double opt-in email forms for the mailing list integration with your website. Each field can be removed/added/renamed to match your mailing list database format.
They work with our Bulk emailer and free mailing list manager, SendBlaster.
7. ASP single opt-in and double opt-in formmail scripts
Here are the ASP form mail double opt-in and single opti-n download links for newsletter subscription.
Each script works with SendBlaster Bulk Emailer software and gathers inside SendBlaster your new mailing list members subscriptions.