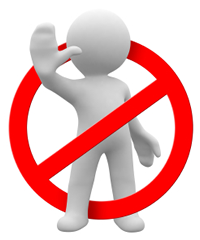 Do it Today!, Increase Traffic, Free, As Seen on…
Do you usually use these phrases in your email newsletters? Well, if you do not want to be flagged as a spammer forget them! Spam filters perform regular tests on mail messages to determine if they are spam or not.
Most of them work on a point system, so that the occurrence of just one "spam phrase" probably will not trigger rejection. But if your points are too high, your message will get blocked, even if well designed and formatted.
Before sending your newsletters with SendBlaster, always remember to perform a spam test. You can do it simply clicking on the "Spam check" button (in the compose panel). This tool will tell you which is your spam score, based on the SpamAssassin rules. If you get a big score (ex. more than 1 point) then it is better that you adjust your newsletter before hitting the send button.
In general, it's always a good idea to save deliverability by avoiding all those "spam" words and combination of words.
Here is a (not definitive) list of 200+ spam words.

In this page you can find another long list of keywords identified by Spam Assassin, the most popular open source mail filter.
DOWNLOAD FOR FREE100% free newsletter software BUY PRO VERSIONLife license, one-time payment package