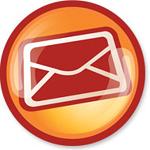 Do you want to give more power to your email?  We selected 5 Free tools that will allow you to discover new ways to use it.
Moomeo – Just launched. It allows people to share emails. You send an email to Moomeo service email address, receive a Moomeo link to you email back, and share it on Twitter, Facebook, or anywhere online.
Voice on the Go – This service allow to listen to, compose, forward and delete your emails by voice, all without typing. No software to download. It works from any mobile phone on any network. Nice video demostration.
Feed My Inbox – Only 3% of computer users are familiar with how feeds work. FeedMyInbox makes it simple and provides you the feeds (RSS, XML, Atom) of your favorite blogs, news and sites directly to your E-mail inbox.
Zemanta – In real-time, while you type your blog posts or emails Zemanta suggest tags, links, photos, and related articles. Zemanta supports Wodpress, Blogger, TypePad, Movable Type, Ning, Drupal, LiveJournal, Tumblr and email platforms Google Mail and Yahoo!Mail.
Mailbeans – Mailbeans is a web-based service of email aggregation and management which allows users to keep all their email accounts on the web in a same place. It differs form usual webmail services both in the technological approach to email management as well as in the UI paradigm.