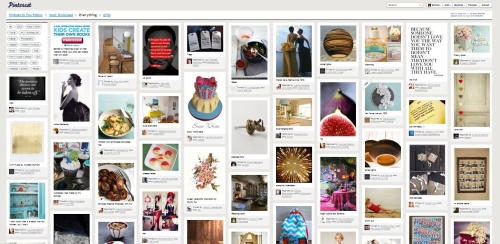 First there was Facebook, but now there's a new "face" in town. It's a site that's attracting a record number of new users eager to jump on board the next big thing. According to Business Insider, traffic to Pinterest has increased by more than 40 times since December of 2011. As of January 2012, Pinterest had 11.7 million unique users, and this social media site with a twist continues to experience explosive growth. Media giants are taking notice. The Wall Street Journal is already using Pinterest to cover fashion week in New York City. This is appropriate since almost six out of ten Pinterest members are female. Not surprisingly, businesses are eagerly searching for ways to use Pinterest to market their goods and services, especially businesses that market to females.
How Pinterest Works
Pinterest is a visually-oriented social media site that draws attention not with words but with pictures. Members create categories and themes for photos that interest them online and pin them onto themed pinboards. Themes might include anything from "delicious desserts" to "sexiest little black dresses." Members are free to post and share images they find on the web so other members can enjoy and hopefully share them with others. If a member finds a compelling image, they can repin it by adding it to their own pinboard or share it on Facebook or Twitter. Pinterest members can also choose other like-minded pinners to follow, creating their own community of members with similar interests. It's visual social media at its best.
To add exclusivity, you need an invitation to join Pinterest. Anyone is free to visit the site and fill out a form to join, but non-members must wait for an invitation to arrive through email to become a member. This can take several days. Another member can also extend an invitation to a non-member to join.
Is Pinterest a Marketing Tool?
Most people browse pinboards on Pinterest for inspiration and ideas, but there's a growing number of companies who see it as a powerful marketing tool. Sites like The Gap are already using the site to pin images of their products. When viewers click on an image of a hot new style, it takes them to a product page where they can learn more about the item and place an order. If a user likes an image, they can repin it to their own pinboard, and the original link to the product page stays intact.
It's not hard to see the potential for marketing products and services through Pinterest, but the company discourages blatant self-promotion. One way companies can market their products on Pinterest is to place a "pin it" button on products they sell on their website encouraging visitors to pin the item on their own Pinterest pinboard. This is similar to the way users share links on Facebook. Pins aren't limited to photos. Pinterest pinners can also pin videos and links to articles or discussion on their pinboards. On the other hand, using Pinterest exclusively to market products is likely to backfire. The community-minded nature of the site means companies that join exclusively to hawk their own wares will quickly lose followers.
Should You Use Pinterest to Promote Your Products?

Before using Pinterest for self-promotion, read their terms of service to ensure you're not violating the rules. If you're a restaurant, you might post photos of some of your best dishes. If you're a jewelry designer, you can pin photos jewelry designs. You can even use Pinterest to cross-promote material you publish on your blog. It's a good way to build a brand and increase your visibility among an ever-growing population of users.
Pinterest is also a good site for market research and getting ideas for new products. To be successfully, play an active role in the community by repinning other posts that interest you and engage users by giving them a glimpse of your passions and interests by pinning more than just self-promotional material. Once they see you're a real person with interests, they'll take a closer look at what you have to offer.
Use Pinterest the way it was meant to be used as a site for inspiring and sharing with others, and you'll naturally draw people to your products and services – and everyone benefits.