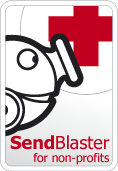 About 2 years ago we decided that it was time to give back to the community.
We started offering SendBlaster licenses to non-profit organizations for free. Out of all the types of non-profits, we chose to provide licenses to organizations that worked in the area of health care.
To date we have donated over 200 licenses (a value of over $25,000), to as many non-profit organizations.
Among the health care organizations that we have helped there are hospitals, humanitarian organizations, non-profits working with HIV/AIDS and orphanages around the world.
During the campaign, we discovered how many people out there are giving of themselves to serve different communities every day.
The altruism and the basic instinct to help others traverses all boundaries, race, country.
We know that our donations have been only a small help to these communities which have to cope with new challenges every day.
We just hope that our software has given them some help in better informing their supporters, recruiting new volunteers, or even better, raising more funds.
We are truly proud of this. 🙂
You can find a partial list of non-profits that received our donation on this page.
We will definitely continue to support these non-profits!
If you represent a non-profit working in the field of health care and need software for your email marketing activities, please send us your request.
We will review it and, if applicable, we will send you a SendBlaster license for free.