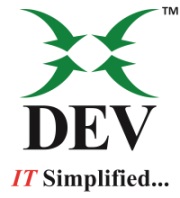 Dev Information Technology Pvt. Ltd. is a Microsoft Certified Gold Partner company in India engaged into IT industry for over 15 years now.
They are a leading offshore outsourcing company, providing reliable 24×7 Remote Server Administration and Monitoring, Managed IT services, Technical support and Helpdesk services, web application development, SharePoint Solutions, web site designing, corporate and multimedia presentations, web hosting and search engine optimization services to enterprises worldwide.
Dev Information Technology Pvt headquarters is located in Ahmedabad, India but they also have branch offices in USA and Canada.
Their marketing goals were to increase brand awareness, generate qualified leads and convert potential leads into sales.To achieve these goals, they needed an email marketing software able to manage all these processes without complicating their marketing.
"SendBlaster helped us to easily reach prospective leads, to present discount offers on our services and, most of all, to convert leads into sales" – said Zenul Jinwala, Business Development Associate of Dev Information Technology Pvt. Ltd.
Today, Dev Information Technology Pvt. have reached over 25.000 subscribers.  They are actively adopting multiple strategies in order to costantly grow their email list, for example, by offering free trials of their services to new visitors and adding valuable tips inside their newsletters.
"As a result, our revenues increased by a whopping 30%." – Zenul said.
"I would recommend SendBlaster because it helps businesses present their value propositions and business portfolio to a vast audience" – stated Zenul Jinwala – "It's simply effective. If you want to grow, SendBlaster is a must-have."