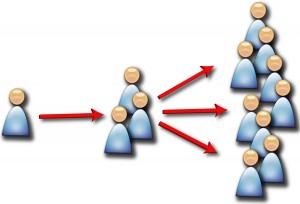 One of the most popular use of Twitter is to post messages that repeat some information previously tweeted by another users. We are talking about ReTweets, a sort of  compliment you can get on Twitter by sharing interesting content.
At the moment the most popular tool to retweet is the Tweetmeme. Using the TweetMeme Buttons you can discover new content and easily tweet about it.
They work great on any web page (websites, blogs..), but there's more! In few steps you can easily embed them into your emails too.
Why add a retweet link to your emails?
Because it's a great way to drive more traffic and backlinks to your business. When your readers retweet your newsletter all their followers will see it, and they will be able to retweet it again, and so on. Then all these users could visit your Twitter account (RT@yourusername) or click on the url address and go to your email.
To include a ReTweet button in your newsletter:
Create an online version of your email/newsletter
Visit the TweetMeme Help page and choose which code to include in your emails (there are different options)
Make sure to replace <url>  tags with the desired URL (e.g. htttp://yoursite.com/newsletter/novembre09.html) and change the <source> to your Twitter name without the @ sign
Add this HTML code in your newsletter.
Test the functionality of the link by sending a test message to yourself.
Suggested link: The Science of ReTweets great analysis!