This post is part of a series of guest posts authored by popular bloggers and internet business consultants. Today's guest post is written by Glen B, who helps individuals and businesses at NetIdnow on how create websites using using WebStudio Website Builder.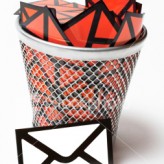 Email Marketing is one of the most cost-effective ways in pulling off your eCommerce website's success. But while you are doing an email marketing campaign, you will always be worried if your emails get through the spam filters of your recipient's inboxes and not to the spam folder.
Here are some tips that you should consider to not end up as Spam.
Use the right words
Email subjects and content containing "FREE", "SALE", and other promotional lingo can tip off spam filters to not place your email at the inbox. Use the right words in the subject line and as well as in your email content when sending an email. The best thing to do is to use your company name, label, and brand as your subject as well as the intent of the email. For example, other than using "FREE Ebook to Online Marketing", you can modify it and use "SEoptimizemenow: Your Guide to Online Marketing Success". In that way, you can be sure that it gets to your recipient's inbox and is interesting enough to be read by them.
Be more personal
Every recipient's got a name and it is so much better if you mention their names in greeting them. This makes your email look more personal but also professional, making your recipients feel that the email is really drafted for them.
Provide a clear Unsubscribe Link
Honor those recipients who click the unsubscribe link. While it is sad to let them go, you have to give them the freedom to continually receive your emails or not. This should also be done quickly as you do not want to be labeled as spam by these recipients.
Do not use Large Images to Contain your Email
Large images can also tip off spam filters to filter your email as spam. Should you really need to use an image, keep it to a maximum of 600px.

Clean your email list from time to time
People change emails frequently. If you are not able to update yourself with which emails are still good or not, eventually, you will end up getting a bad spam score for sending emails to addresses that are not working.
Check out for spamming complaints
You can always use Google to search for people who are complaining about spamming their emails. Once you see them, you should take action right away before you end up getting blacklisted.
Sending email campaigns should not be a hard task once you consider proper netiquette. If you want your emails to be very effective, always strive to reach the highest email marketing standards. Be professional. Watch out for spelling and grammar mistakes and never send a half-baked, half-hearted email because one email can make or break your online credibility and as well as your business.
About the Author
Glen is a part of the NetIdnow team that helps individuals and businesses alike on how create your own website using WebStudio Website Builder—an ecommerce website builder that allows people to make a website with or without HTML skills. Glen also enjoys sharing valuable information on SEO and Web Design.