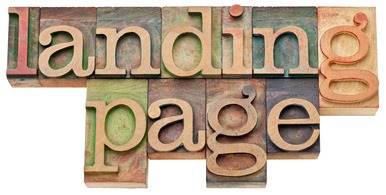 We all know how hard it is to truly engage and set the expectations of your subscribers. Success in the online world hinges on providing customers what they want and need, but it can be difficult to achieve that balance.
One of the most effective tools email marketers have at their disposal is the landing page. Whether used in conjunction with a monthly newsletter or a standalone
email, a properly constructed and well executed landing page can be extremely effective. Unfortunately, it is also easy to make mistakes that render your landing pages less effective than they should be. Whether you are creating your very first landing page or trying to make your existing ones more powerful, avoiding these common mistakes can help you succeed.
Unclear or inconsistent call to action – Never forget that the purpose of the landing page is to get the reader to act. The call to action should be at the heart of your landing page, and it should be clear from the outset what you want viewers to do. Whether you want people to subscribe to your mailing list, buy your products or call you on the phone, your landing page should make your intentions clear.
Too much going on – A cluttered landing page will not win you many fans. Placing too much on your landing page will turn off viewers and interfere with the clear call to action you have created. You want to provide readers with the information they need – not overload them with irrelevant data.
Poor quality links – The right links can increase your conversion rate and win you new customers; the wrong links can send would-be customers fleeing. Always double-check the links on your landing page and make sure they enhance your call to action. Remove links that lead to generic or irrelevant information.
Overwhelming the eye – The colors used in your landing page should build on your brand, not distract from it. Using colors that are obnoxious or just too bright can turn off viewers and send them packing. Avoid garish combinations of primary colors; they can make your page look amateurish and unattractive.
Uninspired formatting – The content on your landing page is most important, but that does not mean you can ignore the formatting or the look of the page. A good landing page is both useful and attractive, and striking the right balance is essential to long-term success.
Dull unenticing wording – The headline of your landing page is just as important, perhaps more important, as the subject line on your email. The content at the top of the page should arouse the curiosity of the reader and make them want to learn more. Choose your words carefully if you want to improve your conversion rates.
Failing to meet expectations – Getting readers to click through to your landing page is just the first step. The landing page you create must meet the expectations of your subscribers and give them what they are looking for. A landing page that does not meet the expectations of the reader will not get many conversions.
Making the right moves is an essential part of successful marketing, but avoiding mistakes can be just as critical. Avoiding these common landing page blunders can make your own pages more effective, boosting sales and improving your conversion rate.
Download SendBlaster FREE FREE Advanced Email Marketing eBook