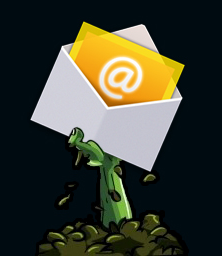 Email is dead. Swamped by spam, afraid of phishing, and distracted by the latest social media gimmicks, internet users have abandoned email in favor of instant messaging, Facebook, and Twitter. Or so some websites would have you believe.
A WSJ article back in 2009 went so far as to say that email itself was dead.
"Email has had a good run as king of communications. But its reign is over." – Jessica Vascellaro on WSJ
More recently, OracleDigital made a better case for the death of email marketing with statistics. The claim is that Social Media is rapidly displacing email marketing from its throne. To put it bluntly, email marketing is now a waste of resources, because statistics say so.
"…the average open rate of emails in the USA dropped from 14% in half 2 of 2007 to a humble 11.2% in half 2 of 2009." – Clint Maher on OracleDigital
Statistics do not lie, surely. Or do they? Let's find out.
We have undoubtedly seen a phenomenal surge in social media adoption over the last few years. However, the rise of social media does not signify the inevitable demise of email. On the contrary, research published by customer relationship marketing agency Merkle in 2011, indicates that users of social media are significantly more likely to check their email four or more times per day than other internet users.
So what about the claim that marketing via email is dead? That's just as untrue. 72% of 900 companies surveyed in early 2011 rated ROI on email marketing as 'excellent' or 'good', making it second only to organic SEO (source: econsultancy). Yet another report by Exact Target drives home the importance of email marketing with statistics on online consumers.
"More than 93% of online consumers are subscribers, and have provided their email address to at least one company or brand…more than 50% of consumers make purchases as a direct result of email…"
Email is not only alive and well; it also pays dividends to companies who use it effectively for marketing purposes. According to the Direct Marketing Association, the ROI expected from email marketing in 2010 was $42.08 for every dollar spent on it, more than any other direct marketing channel.
However, email's robust health stems from changes in the way it is used. Email users have become increasingly discerning and harder to impress. At the same time, spam filters are more effective at binning unwanted emails. Email marketing has had to transform itself to meet consumer expectations.
It's no secret that making a sale via email requires skill. The step-change in email marketing is the use of customer data to tailor email content to the preferences of individual consumers.
Today's marketers need to play a long game, building a relationship with their customers and creating valuable content that will be sought out, read, and easily shared.
BONUS. Did you know the death of email was predicted many years ago? Check out this interesting article published in 2004 by Christopher Knight. He found 22 reasons why email was not dead!