A clear and reliable unsubscribe process is key for maintaining your reputation among your subscribers (and ISPs) and for increasing conversion rates.
If people want to leave your list make it easy on them!
In the new version of SendBlaster you can place the unsubscribe link with one single click by pressing the Insert unsubscription link button in the Compose message panel.
SendBlaster will automatically generate your personalized HTML code. You will only have to specify the text your recipients will click on (e.g. Remove me from this list):

<a href="mailto:#managingemail# ?Subject=Unsubscribe">Remove me from this list</a>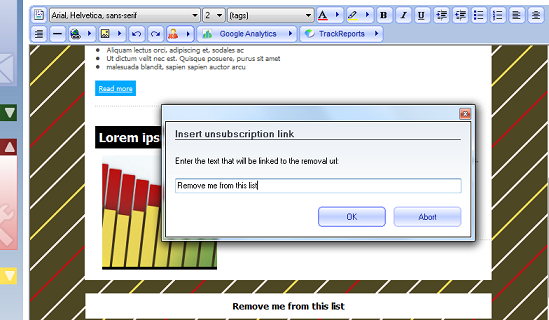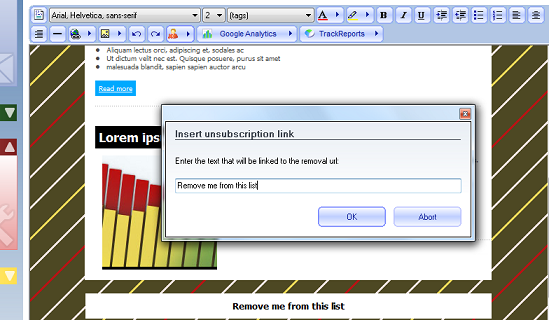 SendBlaster is able to manage distribution lists by downloading email messages from a dedicated e-mail address (that can also be different for each list). This means that each email with subject "Unsubscribe", received by the List Managing Email Address, will be automatically removed from your mailing list.
Please keep in mind that working unsubscribe links are required by The Federal CAN-SPAM Law, enacted in 2003:
"an e-mail recipient cannot be required to pay a fee, provide information other than his or her e-mail address and opt-out preferences, or take any steps other than sending a reply e-mail message or visiting a single Internet Web page to opt out of receiving future e-mail from a sender "
In particular the CAN-SPAM policies require:
A visible and operable unsubscribe mechanism is present in all emails
Consumer opt-out requests are honored within 10 days
Also, never hide deliberately the unsubscribe istructions or making them complex. If your readers keep getting unwanted emails, they will be annoyed with your company and, because of this, they will be encouraged to report you as spam, even if you are still sending your emails legally. Much better to make them leave!