Let's take a look at a couple of examples of email marketing. Both emails are trying to do the same thing — both are trying to sell an information product — but each of the companies has taken a very different approach to its marketing.
We don't have the figures to show which of these emails was more effective. We can hazard a guess that one delivered more clickthroughs than the other but we don't know which delivered more sales. Nor can we say which approach would be more effective for your business and your subscribers. The only way you can ever know that is to write one of each, send each one to half of one group of subscribers and see which produces better results. That will tell you which kinds of emails you should be writing. But first you need to know how those two kinds of content work.
The Cricketer's Email Samples
The first is a newsletter from UK sports magazine The Cricketer. This is how it begins: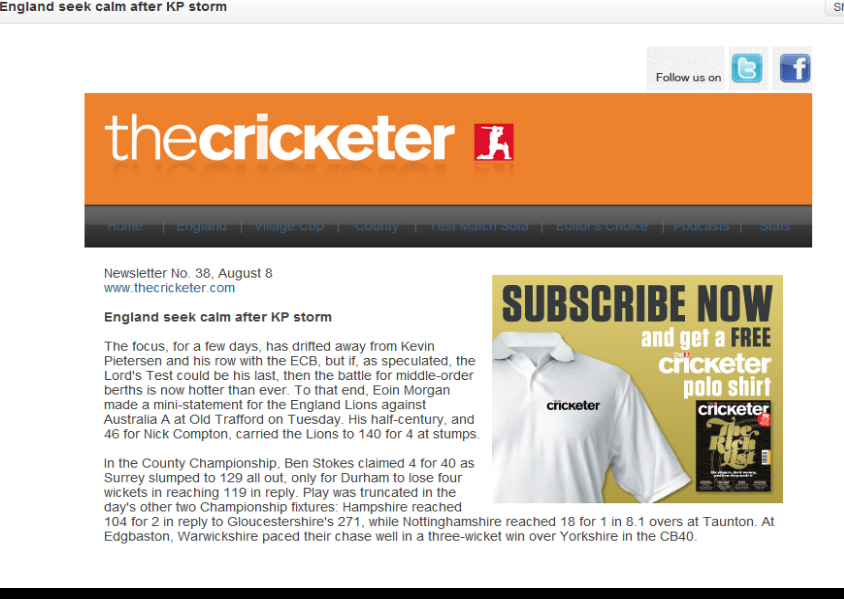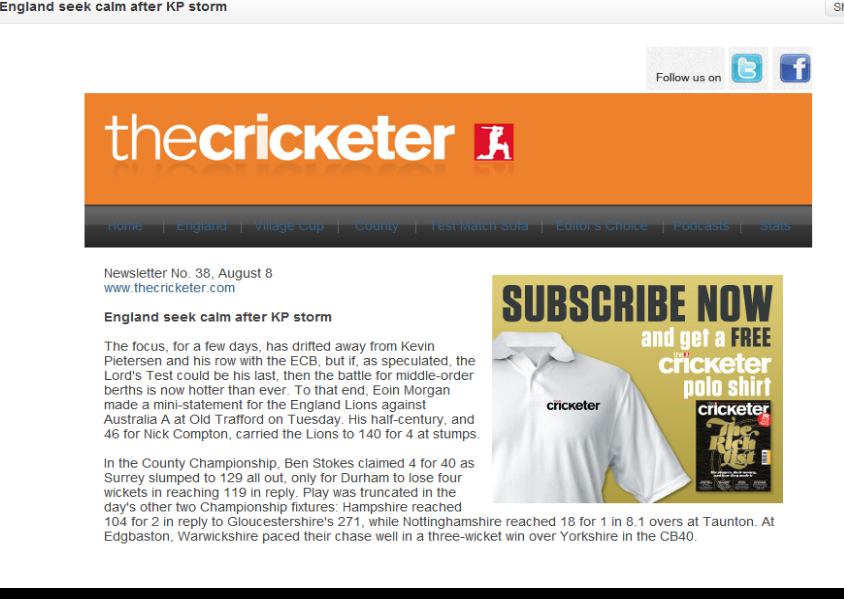 The first thing to notice is the subject line. There's no call to action here and no urgency. It's a straight news headline that makes a direct appeal to subscribers' interest. The start of the newsletter offers the first two paragraphs of the story, and the remainder contains the headlines and opening sentences of four more stories. The only piece of direct advertising is the subscription ad on the top right of the page.
The Cricketer is effectively using its email list to give away a sample of its product to people it knows might be interested in buying it.
AppSumo's Email Coupons
Compare that approach to the one used by AppSumo, a company that sells information products to entrepreneurs. AppSumo's email looks like a set of discount coupons: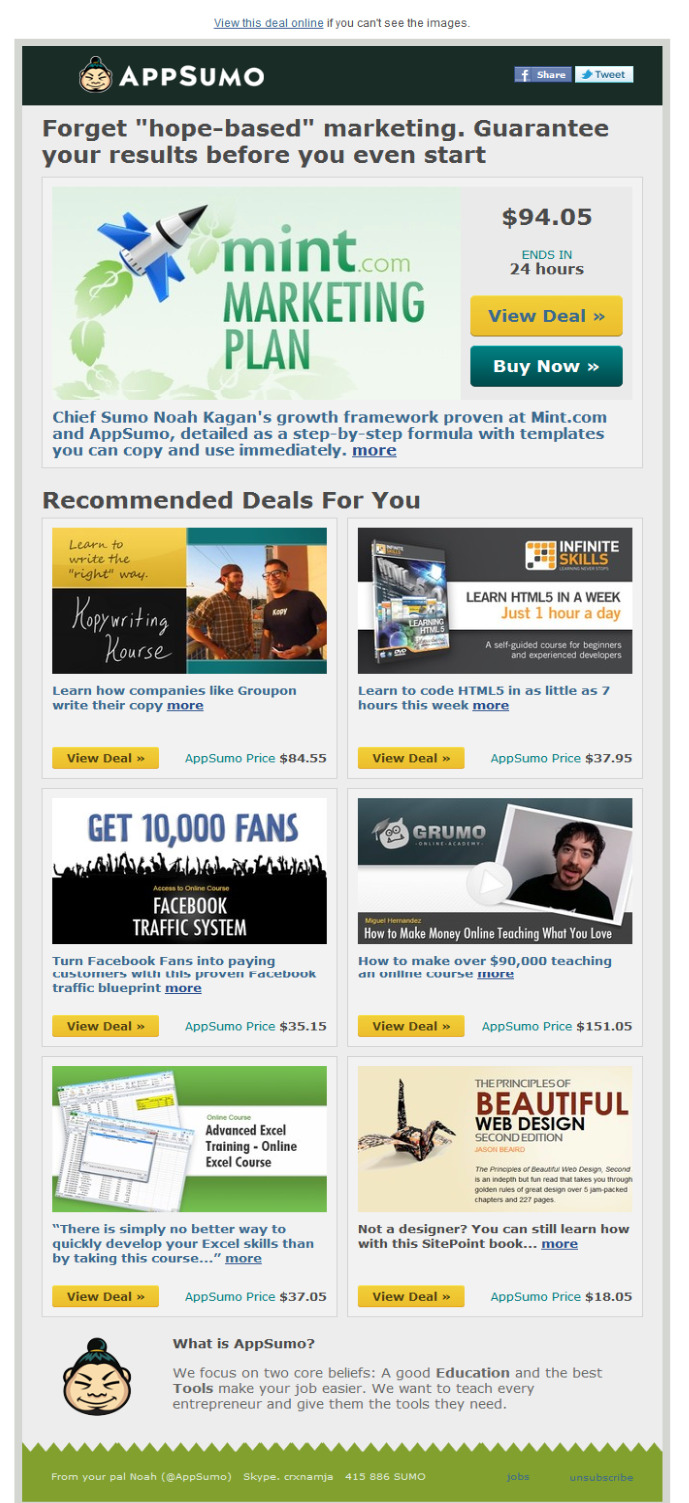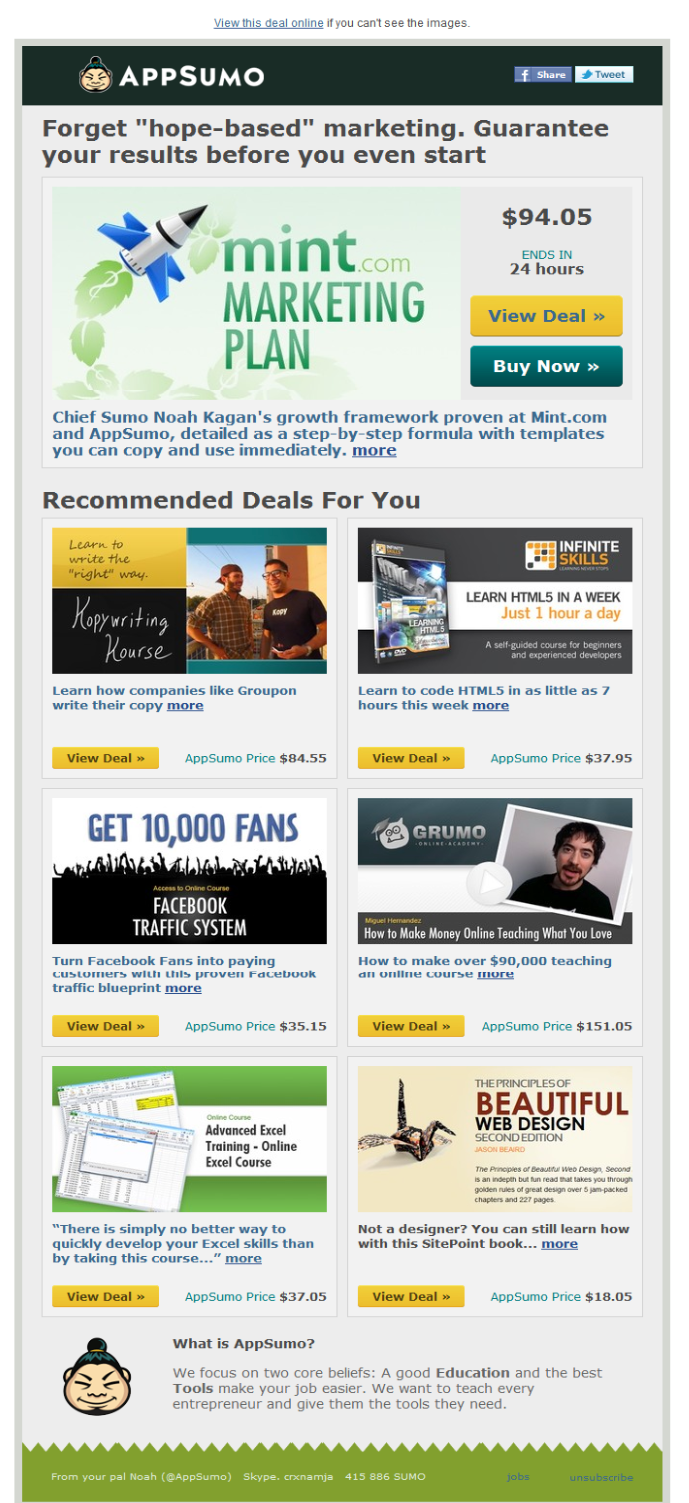 As a piece of marketing, it's much easier for subscribers to ignore. It's not clear what the Mint.com Marketing Plan contains or why it would be useful. The sender assumes that he already has enough trust and loyalty from his subscribers that, despite the high price of the products, he doesn't need to provide samples. The remaining products are a mixed bag and include advice about Web design, Excel training and Facebook traffic systems.
Subscribers will glance at the graphics and if they see the offer of a solution to a problem they're struggling with, they might click through to learn more. (At that point, they get a traditional, one-page sales letter.)
AppSumo could have done it differently. Like The Cricketer, the company is selling information. The information might be very different and have a practical rather than editorial function, but it could have been sold in exactly the same way. Instead of emphasizing the opportunity of a deal, AppSumo could have included a headline ("Grow Your Business as Fast as Mint.com!") then delivered the start of one piece of advice contained in the product.
That would have made the email more readable. The Cricketer's newsletters will always be welcomed by people who want to stay informed about cricket; no subscriber is going to look forward to receiving AppSumo's email marketing. It wouldn't have made the offer dependent on the trust the site has already won. (The Cricketer builds trust over time by giving away samples of its content.)
But would it have made the message more effective in terms of revenue? Without testing, it's impossible to say. If you know your subscribers already trust you, you might find that coupons are enough to bring in sales. If you think they need to be warmed up first with samples, send them links to your content.
Best of all, test both and compare the results.